Hey guys!! I just finished watching this movie tittled ''Youth In Revolt''. It was recommended by one of my friend who is also a movie lover like me. After seeing this movie, i must say he does have a taste for such a wonderful rom-com films. I was hooked from the very first scene and couldn't stop watching. The plots and humor of the movie are just awesome and acting wise I have never seen Micheal Cera been this good! He's just the perfect feat for such a good movie.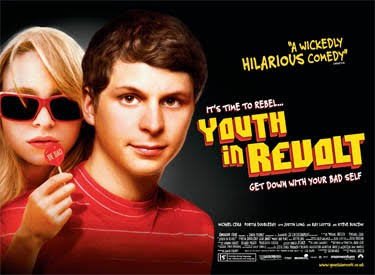 Poster
Movie: Youth In Revolt (2009)
Genre: Romantic, Comedy
Director: Miguel Arteta
Cast: Michael Cera and Portia Doubleday, with Justin Long, Ray Liotta
Synopsis: The film follows a shy and lonely teenage boy (Cera) desperate to lose his virginity. While on a trailer park holiday with his mother and her boyfriend, he meets an attractive girl (Doubleday) and is immediately smitten.
Review: Michael Cera ("Year One") returns to the screen, as always, in a stuck role. Even if i would like to see him in other types of movie genre, but let's face it, it suits him so well that it would be wrong to sulk his pleasure. Especially in this film, because Miguel Arteta gave him a golden opportunity to show what he is capable of in more charismatic roles. His character, Nick, a young high school student with a tortured teenager who approaches his life with an unbelievable coolness and platitude, finds himself suffering from schizophrenia when he encounters Sheeny, a small ingenue portrayed by Portia Doubleday. From then on, Nick will be harassed by François, a kind of alter-ego version "French playboy".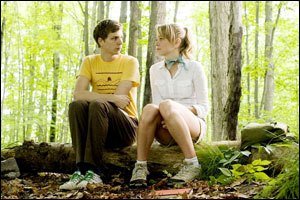 From there, it's François Dillinger humor characters that snaps and makes it fun to see. The film is light and the situations always funny. Sometimes, they are even a little too much to win audience (like the episode of the car and sailors). Conversely, other gags are downright fly and deliver small moments of crazy compulsive laughter (the car and the cliff), so the comical situation set up by Arteta plays brilliantly with my expectations.
Overall, this is a super enjoyable movie for me, almost as enjoyable as other Michael Cera's movie that have seen.
---
Movie Url: https://www.themoviedb.org/movie/22327-youth-in-revolt?language=en-US
Critic Ratings: AAA