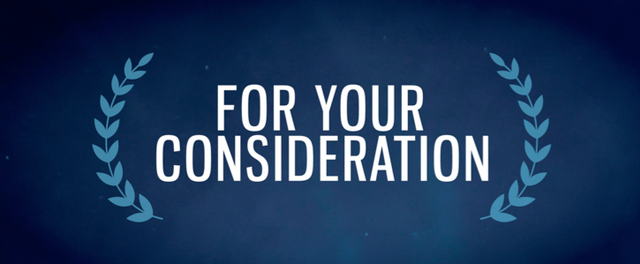 Nerds on the Rocks
If you participated in the first edition of the contest, you already know what it is and how it works... For beginners, it is worth explaining:
FOR YOUR CONSIDERATION is a movie contest that I created to encourage people who like movies to write about their thoughts (reviews) about what they're watching. This second edition will take place throughout December and will be based on a single theme, with 4 phases. Those who wish to participate must strictly follow all the rules to be able to compete.
So, here are all the details...
THEME OF THE MONTH: Back in Time.
Each participant must choose (weekly) a SPECIFIC DECADE (check them below) to write their reviews. So it will be 4 MOVIES, from 4 DIFFERENT DECADES (only ONE entry / review per week is allowed).
Each week you will get a different score weight and the idea is to make someone who is at a disadvantage (for example: for some reason no longer participating in one of the weeks) be able to stay in the competition in the coming weeks.
[ PHASE 01: 01 to 05 POINTS] (60's Movies )
DECEMBER: 03 - 10
[ PHASE 02: 05 to 15 POINTS ] ( 70's Movies )
DECEMBER: 10 - 17
[ PHASE 03: 15 to 30 POINTS ] (80's Movies)
DECEMBER: 17 - 24
[ PHASE 04: 30 to 50 POINTS ] (90's Movies)
DECEMBER: 24 - 31
A partial ranking will be posted every week. At the end of the fourth week, all points will be calculated based only on my ratings and 03 WINNERS will be chosen and announced as soon as possible.
For reasons that have already been explained to me, @jayplayco will not be able to participate in this edition.
[ PRIZES ]
The prize round will remain the same (which is great!) because, unfortunately - despite trying - I couldn't find any more sponsors.
[ FIRST PLACE ]
Upvote (100%) from the TipleA project. + 5.000AAA tokens. + 3 STEEM.
[ SECOND PLACE ]
Upvote (80%) from the TipleA project. + 3.000AAA tokens. + 2 STEEM.
[ THIRD PLACE ]
Upvote (60%) from the TipleA project. + 2.000AAA tokens. + 1 STEEM.
SPONSORS:

STEEM = Me | UPVOTES and TOKENS = TripleA project (@triple.aaa).
Pay attention to the rules (and please, STRICTLY follow them)...
Only ENGLISH reviews will be accepted for better understanding.


All reviews MUST have a minimum of 300 WORDS and should MENTION THIS CONTEST (by posting this contest link) to be accepted.


One of the first 5 tags of your posts MUST be #FYC. This will ensure that all acceptable posts are read and rated by me.


All reviews MUST be based on TripleA format (doesn't forced to write on triplea but the format must be right).

NOTE: If you don't know anything about this format, click HERE and read all the information.


The winners will need to write another review after their nomination to be able to receive the TripleA upvote (a new review needs to be written because the post has to be recent to get the vote).

NOTE: It can be possible that the upvote is not given, if the final review (the first after the announcement of the winners) quality is too low. So, pay attention to the quality.
Please, consider this...
UPVOTES and RESTEEMS are not mandatory requirements to participate in the contest, but it would be a great help to spread it and make it more accessible to encourage more people to participate.
---
So... That's it, folks! Today the contest begins its second edition and a new cinematic journey is just beginning. The direction to follow will depend on your participation.
Bring it on and write your best movie reviews and if you have any questions, please just leave a comment below that I'll answered it as soon as possible.