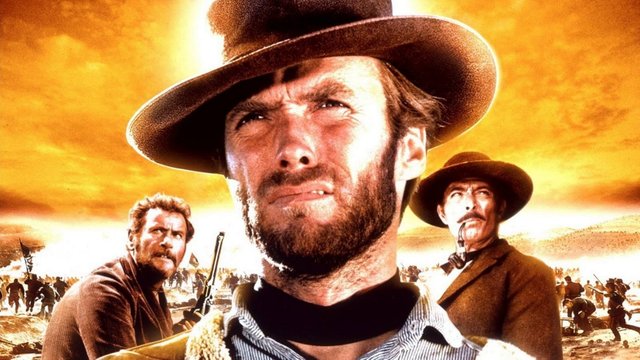 Even in the heavenly realm of the Best Movies Ever Made there are titles that happen to be more obscure than others. The Good, the Bad and the Ugly is one of them. For most of the people it is nothing more than a cool title. Obscurity of this film is easy to explain - it was made decades ago, its length is epic and it belongs to the much despised genre of spaghetti westerns. Most of the people would have trouble connecting words like "spaghetti western" and "epic", unless director in charge happens to be Sergio Leone. The Good, the Bad and the Ugly, made in 1966, represents the final segment in his celebrated Man With No Name movie trilogy.
Unlike most of the final segments in movie trilogies, The Good, the Bad and the Ugly might be viewed as a prequel to first two films - A Fistful of Dollars and For a Few Dollars More. The plot is set in American Southwest during the Civil War. Tuco Ramirez (played by Eli Wallach) is a Mexican bandit with a bounty on his head. That means that he is targeted by many bounty hunters and similar shady characters interested in quick cash. The smartest of them all is Man With No Name a.k.a. Blondie (played by Clint Eastwood) who not only manages to capture Tuco but also finds a way to make him more profitable. After handing Tuco over to authorities, Blondie arranges his escapes, shares the prize money and repeats the scheme in the next county. After a while, the partnership goes sour and Tuco is left in the desert without a penny. Furious Tuco begins tracking down his former partner, but before he gets his revenge, an unusual set of events would cause him to reconsider. Both Tuco and Blondie find out about huge pile of stolen Confederate gold, but each of them knows only a part of the exact location. So, two of them decide to set aside the past differences and strike another partnership in order to get their hands on the gold. However, before they find this treasure, they must face the battling armies that stand in their way. But the deadlier obstacle to their plans comes in the form of Angel Eyes (named Sentenza in Italian version, played by Lee Van Cleef), ruthless but efficient professional killer who also knows about the hidden gold.
Same as in the first two parts of the trilogy Sergio Leone paints a revisionist picture of the Old West. Instead of using its primordial state as the perfect setting for the archetypal and simplistic fight between Good and Evil, Leone shows Old West as a place where the lack of civilisation leads to the utter lack of morality. Friendship, loyalty, common decency and even the human life means nothing in this world; its characters are guided only with their most primordial instinct or, as it is much evident here, pure greed. Therefore, the line that separates heroes from villains in this piece is blurred - they all have the same motives and same lack of scruples. Such moral ambiguity is underlined even in the title of the film, quite ironic in the context of the story and its characters. Leone used such motives in the first two films, but this time it gives it another dimension. The story is set in the broader context of American Civil War and the murderous quest by three major protagonists is dwarfed by the sheer amount of carnage and destruction that goes around them. In their quest for the gold they might kill dozens of people, but the war kills thousands. Leone's pacifist and anti- militarist stance in this movie was not just in tune with the opposition towards Vietnam War, quite popular stance among late 1960s European intellectuals. It was also inspired by the events in European past that found way to reflect them in this film. The movie was shot on location in Spain, country which endured its own civil war, with atrocities and destruction not very different from those depicted in some of the movie's most memorable scenes. The battle scene in the film, although one of the most spectacular in the history of western and although it features uniforms weapons and military equipment of 1860s America, is actually more inspired by the traumatic experiences of Italian military in 20th Century, especially WW1 and utter pointlessness and bloodbath symbolised in twelve Battles of Isonzo 1915-17.
Background of Civil War not only puts moral alignment of the characters in another context, it also gives opportunity for Leone to paint brighter or darker shades in their characters. Epic scope of the story allows Leone to also give some hints about their background. In doing that, Leone is playing with old western conventions. Angel Eyes is named Bad solely because he wears black hat; only later we see finally justify that perception when we see him as ruthless and sadistic. Lee Van Cleef obviously enjoyed playing this role, so different from righteous Colonel Mortimer from For a Few Dollars More; there was only one good thing about Angel Eyes - he always adhered to his own code of professional killer. Clint Eastwood, the star of this vehicle plays the character which is the only link with two other films. Since this is a prequel, there is a little place for some evolution of the character. Eastwood is great as usual, playing the same immoral yet capable, intelligent character we enjoyed seeing in first two films. There is, however, some opportunities for Eastwood to show some subtle hints about his character's humanity, especially in the last segments of the film. Eastwood and Van Cleef are, however, dwarfed by the third major actor - Eli Wallach who found the role of his career in Tuco. Unlike the previous Mexican bandit role he had played in The Magnificent Seven, Wallach gives great texture to his character. His Tuco is neurotic, clumsy, not very bright and he would be considered a laughing stock without his deadliness with pistols. By the usual western standards, he is not very nice person, but Wallach finds a way to make him likeable to the audience. In the end, even Leone gives opportunity to this character to tell his side of the story, in a memorable verbal exchange with his brother, played by Luigi Pistilli. This scene not only features Tuco's humanity, but also gives opportunity for Leone to implement his Marxist views in showing the poverty as the major cause of the crime.
Apart from the actors (including the supporting cast), The Good, the Bad and the Ugly, excels in flawless direction. With this film Sergio Leone finally matured as serious movie artist and developed his own style which many critics called "baroque". The film lasts more than two and a half hours (even longer in Italian version), but not a single scene looks unnecessary or overlong. Leone's directorial skills are at his finest, and he is equally effective in long panoramic shots (which lose much of its impact on TV, being subjected to pan&scan butchery) and his trademark short extreme close-up. Superb editing mixes those elements in perfect combination. But the most memorable element is, of course, the music. Ennio Morricone, in his long and hyperproductive career worked with many directors, but none of them used his talents as much as Leone. Entire scenes in the film are staged around Morricone's music, and not the other way around. Those themes are not self- serving – they provide the atmosphere of the film and, according to each scene, this atmosphere might be sentimental, melodramatic and sometimes even ironic (including the title theme, most recognisable, which gives humorous angle to certain events on the screen). Morricone's soundtrack is one the most powerful in the history cinema and it alone is the reason why this film should be so highly appreciated.
RATING: 10/10 (+++++)
(Note: The text in its original form was posted in Usenet newsgroup rec.arts.movies.reviews on April 22nd 2000)