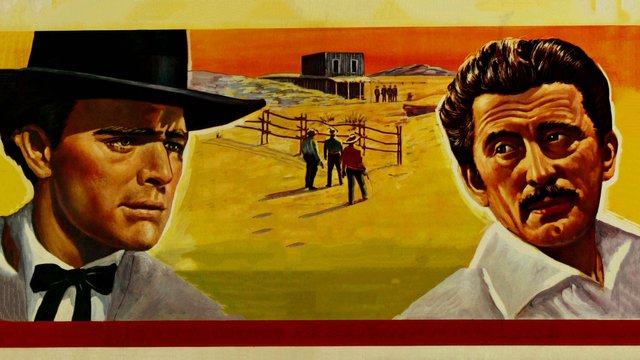 When long-brewing conflict between feuding clans in Tombstone, Arizona finally reached its culmination on October 24th 1881, resulting gun violence didn't last more than few dozen seconds. Hardly anybody at that time could have predicted that the incident, known as "Showdown at the O.K. Corral", would gradually get epic proportions and become crucial part of American folklore. Myth of O.K. Corral was later perpetuated by Hollywood, whose filmmakers made multitude of films covering those events, some of them later being hailed as classics. One of such films is Gunfight at the O.K. Corral, popular western directed in 1957 by John Sturges.
The plot of this film deals less with the showdown itself and more with the relationship between two of its most famous participants. The first is Wyatt Earp (played by Burt Lancaster), sheriff of Dodge City whose successes in bringing law and order to the numerous wild towns of Old West already made him a legend. The other is Dr. John `Doc' Holiday (played by Kirk Douglas), former dentist who traded his profession for gambling career and whose notorious reputation of gunslinger caused many aspiring thugs to make attempts on his life. Holiday proved too good for them, but the tuberculosis is going to succeed in what numerous gunslingers failed. Earp, being of high moral principle, doesn't like Holiday's way of life, but he nevertheless saves him from the lynch mob. Holiday later returns the favour by helping Earp to keep the peace in Dodge City. Two men gradually learn not only to tolerate or respect each other, but also become very good friends. After a while Earp decides to quit the law enforcement business for the sake of the new, peaceful life with beautiful Laura Denbow (played by Rhonda Fleming). However, before their marriage, news from Tombstone, Arizona would make him reconsider. Wyatt's brothers, who work as local lawmen, got in feud with Clantons, local clan of thugs and cattle thieves, so Wyatt goes to Tombstone in order to help them. Doc Holiday follows him, but when they arrive to Tombstone, Earps are not happy to see their brother in the company of such notorious gunslinger.
Most films that covered events at the O.K. Corral took very liberal approach to historical facts, sacrificing accuracy for the sake of simplicity or additional spectacle. Script for Gunfight at the O.K. Corral, written by Leon Uris, wasn't exception, but the emphasis was this time given more to the characters than to the action itself. Result is somewhat overlong film, with at least few scenes that would better be left on the cutting floor (like quite unnecessary episode with Laura Denbow). But slower rhythm is compensated with top acting performances. The most memorable are, of course, those by two leads. Burt Lancaster and Kirk Douglas again make a terrific team. Lancaster, although he plays character of Earp closer to American myth than the version used in future, more revisionist, films, allows his character to show some vulnerability and occasional slip into the dark side. Douglas, on the other hand, plays his character splendidly – his portrayal of boozing and terminally ill gunslinger, although it lacks Douglas' trademark charm, is quite sympathetic and the audience would forgive Doc everything, even the hints of abuse in his relationship with long-suffering girlfriend Kate Fisher, splendidly played by Jo Van Fleet. Both Lancaster and Douglas excel in mutual scenes, creating buddy buddy chemistry that would become legendary in future years. Supporting cast is also splendid, but among many names stands young Dennis Hopper whose portrayal of young, troubled yet hot-headed Bill Clanton would provide one of the most powerful scenes not only in this film, but also in 1950s westerns.
Director John Sturges, whose speciality was action, had little opportunity to show his talents in this dominantly character-driven piece. But even such low volumes of actions allowed him to stage few really interesting scenes, including the spectacular, albeit non historical, showdown at the end of the film. The movie benefited a lot from the talents of musical composer Dimitri Tiomkin, who actually repeated the technique used in High Noon. The title song, which is sung by Frankie Laine, works as sort of Greek chorus and helps keeping the mythical atmosphere of the film. The overall result is professionally done and interesting film, which, although being bellow standards of a true masterpiece, deserves its rightful place among the western classics.
RATING: 7/10 (+++)
(Note: The text in its original form was posted in Usenet newsgroup rec.arts.movies.reviews on May 1st 2000)