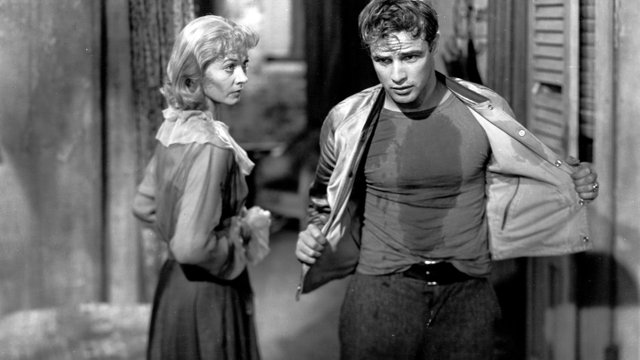 People, as well as institutions, often become victims of their own triumphs. World of cinema doesn't lack such examples. Many artists suffer because the rest of their, otherwise good, career gets unfairly compared with their single and often accidental masterpiece. Great movies often get so praised only to have their reputation declining when they fail to meet big expectations created by overzealous critics and film scholars. In may ways, this phenomenon occurred with A Streetcar Named Desire, powerful "Oscar"-awarded 1951 drama, directed by Elia Kazan. Half a century after its premiere the original power of the film declined, being diluted with numerous parodies and homages (the latest being Almodovar's Todo sobre mi madre), and many talents associated with this film slid into relative obscurity, not being able to repeat its success.
The film is an adaptation of the Pulitzer Prize winning 1947 stage play by Tennessee Williams. Plot is set in the French Quarter of New Orleans where Blanche DuBois (played by Vivien Leigh), small time schoolteacher and daughter of once wealthy land-owning family from Mississippi, comes to calm her nerves, stressed after the loss of family property. At least, this is the story told to her sister Stella (played by Kim Hunter) who seems to be happily married to Stanley Kowalski (played by Marlon Brando) brutish, uneducated working class Polish American. Blanche, posing as refined aristocrat, simply can't stand ape-like Stanley who, in return, can't stand aging southern beauty that brought discomfort to his harmonious marriage. Friction between the two rises as times go by, and intensifies with Stella's pregnancy, Blanche's seduction of Stanley's shy and mild-mannered best friend Harold "Mitch" Mitchell (played by Karl Malden). When Stanley discovers some unflattering details of Blanche's past the conflict would reach its violent climax.
A Streetcar Named Desire is often viewed as one of the most important milestones in the history of American cinema. Based on the powerful play, but also a very controversial in its time, this film introduced some topics that used to be taboo in Old Hollywood - female sexuality, nymphomania, domestic violence and, finally, rape. Even after being thoroughly reviewed by censors (who did everything to tame the raw and shocking original, including removal of all references to homosexuality), A Streetcar Named Desire was a film quite shocking for its time. Director Elia Kazan, known for the ground breaking character of his socially conscious films like Gentleman's Agreement, also used this film as an opportunity to comment on the social conflicts in post-WW2 America, when the romantic visions of American rural and WASPish past clashed with down-to-earth reality of industrial, urbanised and multicultural present.
This film wasn't groundbreaking just in the reality it presented; it was also groundbreaking in the way it presented such reality. Kazan was fortunate to master the play on the stage and twice fortunate to bring most of the original stage cast for the film adaptation. Among them excelled the actors who had embraced the new Method style of acting, so popularised by Kazan in his films. The best known was, of course, Marlon Brando. When we look into his first major film role, the intensity of emotions displayed and raw strength of performance seems earth shattering in comparison with everything Hollywood had to offer before. For the newer generations, A Streetcar Named Desire is an excellent opportunity to see young Brando, quite different from the roles he played in last few decades. His role of Stanley Kowalski was for many years considered the best in his entire career, until, of course, Don Vito Corleone in Coppola's Godfather changed all parameters. In this film Brando doesn't just show a very complex character; he also revolutionises the way male sexuality is displayed on screen. His bicepses, lustful looks and tendency to have bare chests explain why Brando happened to be one of the first major female heartthrobs of 1950s America – something almost inconceivable today, when we picture as nothing more than overweight eccentric caricature of himself. Brando was also fortunate to have some of his stage partners back on screen. Kim Hunter is marvel to watch, as a woman caught between conflicting loyalties, troubled by her social obligations and obvious and very primordial lust she feels for her husband. Unfortunately, she didn't manage to build equally impressive career on her "Oscar"-awarded triumph. Karl Malden, another member of the original cast, again proves his excellent qualities of character actor in the role in the role of deceived, shy but still most likable character; his performance was also awarded with "Oscar".
But the most memorable (and most parodied) performance of them all belongs to Vivien Leigh. Her role of Blanche dubious was often portrayed as a parody itself; the character of aristocratic Southern belle strikes certain resemblance to Vivien's Leigh best known incarnation in Gone with the Wind. But this resemblance are only superficial - Blanche DuBois is much more complex, troubled and fragile, and her once all conquering beauty and irresistible charm is rapidly becoming the thing of a past. Leigh made a terrific job of detailing her gradual, but inevitable decline into madness. This "Oscar"-awarded performance becomes even more devastatingly powerful when we take into account that the real life of an Vivien Leigh in later years in many ways resembled the life of the character.
Thanks to the excellent text and superb actors, Kazan managed to create a very good film, but he still failed to turn it into genuine and everlasting masterpiece. Kazan worked very hard to improve the stage production with the benefits of the new medium, but A Streetcar Named Desire still looks less like an original film, and more like a stage play adapted for screen. Almost entire film takes place in very limited space, and the scenes that show the outside world seem to come out of the picture. With a film almost exclusively concentrated on the four major characters, anyone else is distracting, even the boy whose brief appearance would trigger some well-hidden impulses in Blanche. The musical soundtrack by Alex North, although revolutionary for Hollywood through its use of jazz, isn't particularly impressive. Finally, modern day viewers simply couldn't avoid noticing some rather awkward treatment of some grim subjects due to the different censorship standards. A Streetcar Named Desire is nevertheless still essential film for anyone who wants to be familiarised with 20th Century cinema.
RATING: 8/10 (+++)
(Note: The text in its original form was posted in Usenet newsgroup rec.arts.movies.reviews on May 19th 2000)