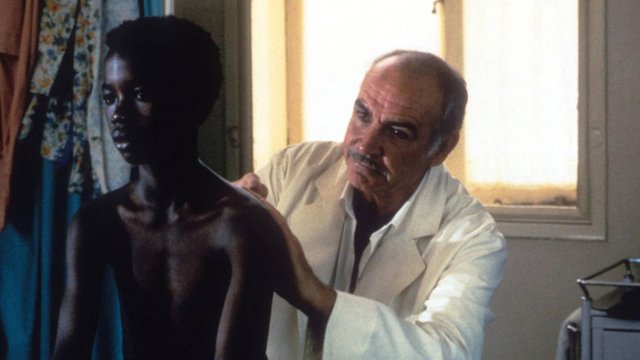 Long time ago the author of this review has fallen in love with Australian cinema. This was due to the group of very talented Australian film directors that made plenty of extraordinary films in relatively short period of time from mid 1970s to early 1980s. Many of those directors later continued their respective careers in Hollywood, usually failing to reach the high standards that they had set while working in their native country. One of them was Bruce Beresford and, although he had been somewhat more successful than the rest of his countrymen, he had his share of failures and disappointments. One of them is A Good Man in Africa, 1994 screen adaptation of satirical novel by William Boyd.
Protagonist of the film is Morgan Leaffy (played by Colin Fliers), low-level British diplomat recently assigned to the post in newly independent African state of Kinjaja. For him the mission in African hellhole is equal to punishment, but his problems are only starting when he receives an important task from his ambitious boss Arthur Fanshawe (played by John Lithgowe). He must convince Professor Adenkule (played by Louis Gossett Jr.), country's most powerful politician, to give lucrative oil-drilling rights to British company. Another problem is local superstition that risks create major diplomatic scandal. Leaffy's efforts to solve those problems are hindered by his own womanising habits and some really embarrassing health issues. The only person who might aid Leaffy is Dr. Alex Murray (played by Sean Connery), altruistic Scottish physician.
Despite having truly impressive international cast an novel's author William Boyd working on the screenplay, A Good Man in Africa is a big disappointment. It seem that someone or something sucked out entire satirical edge out of the original novel. What remained is the bunch of dislikable characters with whom the audience can't sympathise. That includes even Sean Connery, who, despite playing the mo t noble of the characters, never had less likable screen personality. The only remarkable thing about this is Beresford's colour-blindness in such approach - the same misanthropic vitriol in which he painted British as former colonial masters is reserved for their former subjects, portrayed either as superstitious savages or shrewd cleptocrats. The quality of humour in the film leaves much to be desired, and the ending is especially disappointing. All in all, A Good Man in Africa is a film bearable to watch, but hardly anything above it.
RATING: 3/10 (+)
(Note: The text in its original form was posted in Usenet newsgroup rec.arts.movies.reviews on October 20th 2001)