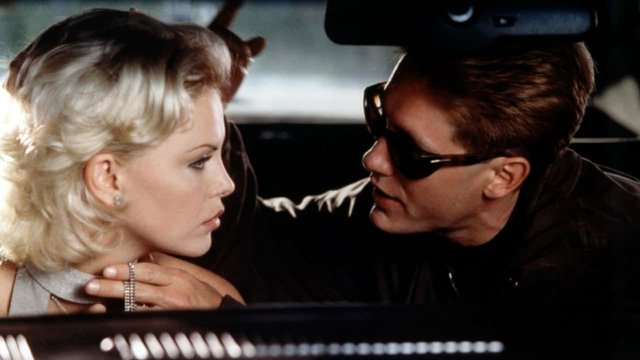 Pulp Fiction, arguably the most influential film of 1990s, led many film makers to create their own knock-off versions. Few of those were remembered, and those that were remembered did so for completely unexpected reasons, totally unrelated to Quentin Tarantino and his work. 2 Days in the Valley, 1996 black comedy written and directed by John Herzfeld, is one of them.
The plot of this film follows couple of characters in San Fernando Valley whose paths are not supposed to be crossed. Two professional assassins - older Desmo (played by James Aiello) and younger psychopathic Lee (played by James Spader) - are after the same target. Becky (played by Teri Hatcher) is former Olympic athlete who wants to get rid of Roy (played by Peter Horton), husband who has cheated on her with her best friend Helga (played by Charlize Theron). Allan (played by Gregg Crutwell) is art dealer who suffers from kidney stones, which doesn't prevent him from insulting his assistant-turned-nurse Susan (played by Glenne Headley). Two vice policemen - older and mentally unstable Alvin (played by Jeff Daniels) and idealistic rookie Wes (played by Eric Stoltz) - try to eradicate prostitution in the area. Teddy (played by Paul Mazurski) is washed-up television director preparing for suicide and trying to find new home for his beloved dog. Those people aren't supposed to interact with each other, but they do, creating a whole new batch of problematic situations.
2 Days in the Valley is more than obviously inspired with Pulp Fiction (with some of Altman's Short Cuts thrown for good measure), but all those viewers expecting high standards of Tarantino's masterpiece are going to be disappointed. Herzfeld mastered the connecting seemingly unrelated subplots into coherent whole and his characters are quirky enough to satisfy viewers' interest, at least for a while. But the quality of writing is inferior to Tarantino's - dialogues aren't particularly memorable and the film at times lacks humour, being closer to straightforward drama than black comedy. On the other hand, 2 Days in the Valley has very good cast, but from all the players only one would be remembered - Charlize Theron in her first major Hollywood role (in which she appears semi-naked, much to the delight of the male audience). Yet, even those who don't care about those things would probably appreciate 2 Days in the Valley as entertaining enough to deserve two hours of their attention.
RATING: 5/10 (++)
(Note: The text in its original form was posted in Usenet newsgroup rec.arts.films.reviews on January 13th 2004)